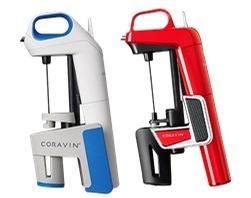 Fabulous Festive find – CORAVIN® Wine System – the trendiest Christmas gadget for wine-loving family and friends
8 December 2017, 10:09AM
Coravin
The hottest new Christmas gift for hard-to-buy-for loved ones
Sydney, 29 November 2017: With the festive season just around the corner, it's time to make the Christmas gift switch from predictable pourers, bottle stoppers, carafes and coolers and spoil the biggest wine-fan in your life with the unique new Coravin Wine System. With Coravin, enthusiasts can drink any wine any time without pulling the cork.
"Selecting the perfect Christmas gift for loved ones can often be more challenging than expected – with popcorn makers, socks, novelty clocks and scented candles the most commonly re-gifted items by Australians. A recent survey suggested that nearly 23 percent of households in Australia were likely to re-gift undesirable Christmas presents[1]," advised Greg Lambrecht, the inventor of Coravin, which launched overseas in 2013 after a decade of development and testing.
This is where Coravin can make a difference this festive season. Allowing enthusiasts to drink any wine any time without pulling the cork, Coravin is an exciting gift for loved ones and even for those feeling a little self-indulgent. With 34 percent[2] of Australians choosing bottled wine over regular strength beer (20 percent), Coravin solves the dilemma over which wine bottle to open at the dinner table. From Riesling and Chardonnay, to Pinot and Shiraz, to Merlot and Cabernet Sauvignon, Coravin allows everyone to have any glass of wine they want without having to finish the whole bottle.
Launched in July this year, Coravin Inc. introduced Model 1, Model 2 and Model 2 Elite into the screwcap-dominated Australian market, making it the first country in the world to access the new Coravin Screw Cap – allowing Aussies to expand their by-the-glass list to wine with any type of closure, whether cork or screwcap.
To use the Coravin Screw Cap correctly, users should open a screw-cap bottle of still wine and replace immediately with the Coravin Screw Cap without pouring from the bottle. They can then use the Coravin Wine System to access wine by injecting 99.9% pure argon gas into the bottle to pressurise and push out the wine. The device can easily be removed after pouring, following which the silicon membrane in the middle of the Coravin Screw Cap will reseal like natural cork – no additional air will go into the bottle. Argon is an inert gas and doesn't react with wine, while insulating it from oxygen.
Each Coravin Screw Cap can withstand 50 punctures and will preserve a screw-capped bottle of wine for up to three months. Coravin usage on standard corked bottles preserves the wine indefinitely, and it continues to age as if never opened.
"Australians are known for their love of a tipple and wine is increasingly becoming their first drink of choice as more and more vintages and blends become available from both the nation's local wineries, as well as from the finest wine regions around the world," Mr Lambrecht enthused.
What's on Offer in Australia and New Zealand?
Coravin's different models cater to different budgets and tastes.
· Model One (Australia only) features a friendly, functional design and bright soft touch grips in a single blue and white colour (Approx. AU$339 and NZD$370).
· Model Two (Australia and New Zealand) with a new thin wall needle that pours 20% faster than the original delivers a modern look. (Approx. AU$549 and NZD$599).
· Model Two Elite (Australia and New Zealand is the ultimate fusion of technology and luxury with impeccable style along with the thin wall needle (Approx. AU$559 and NZD$610).
Where to find it?
Buy Online AU: Dan Murphys, Langtons, Chef's Hat and White Red Bubbles
Distribution Partner AU and NZ: Negociants AU
Find out where to get the Coravin wine system directly through http://www.coravin.com.au/.
About Coravin
Coravin, Inc. is a privately held company located in Burlington, Massachusetts focused on transforming the way wine is served, sold and enjoyed. Coravin designs and markets the Coravin Systems for wine enthusiasts, restaurants, wine stores and wineries. Unparalleled in craftsmanship and design, Coravin uses proprietary patented technology to access and pour wine from a bottle without pulling the cork. Wine enthusiasts can now enjoy wine sealed with corks without feeling the need to commit to the whole bottle, allowing them to explore wines of any vintage, varietal or region, one taste at a time.