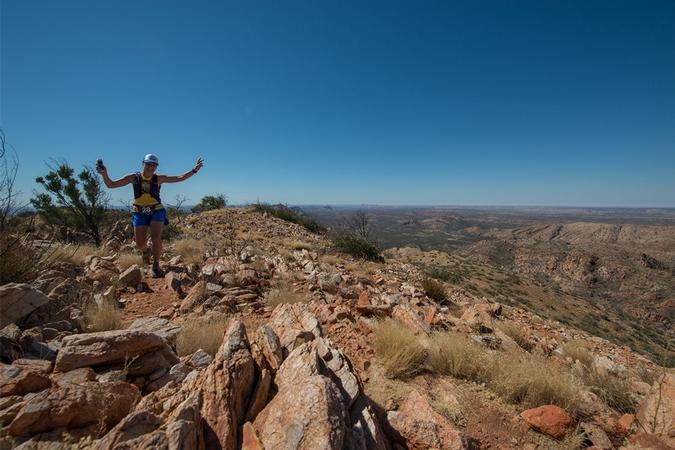 Troy Lum and Deb Nicholl victorious at Run Larapinta 2017
15 August 2017, 3:18PM
Rapid Ascent
Four huge days of running over tough terrain and under a hot Northern Territory sun have come to an end with Brisbane's Troy Lum and Deb Nicholl crowned champions of the Run Larapinta Stage Race today.
Unseasonably hot temperatures in the 30's meant the third running of the four-day, four-stage trail running race along the most spectacular sections of the Larapinta Trail near Alice Springs was the toughest edition in the race's history.
Kicking off with wins in the Mercure Alice Springs Resort Stage 1 19.5km twilight race on Friday, both Lum, 40 and Nicholl, 47 maintained momentum in the Malbunka Long Course with wins in Stages 2 (41km) and Stage 3 (30.5km), to head into the Tourism NT Stage 4 (45km) today with respective leads.
Lum crossed the finish line today within seconds of second placegetter Gary Philpott, and nine minutes behind Stage 4 winner Aaron Royall, to take the overall win in a total running time of 17 hours, 15 minutes and 40 seconds to Royall's 17:30:32 and Nicholl's 18:02:46.
"It's an absolute surprise, I'd had some experience out here as a tour guide in the past, so with that familiarity of the landscape I felt quite comfortable running," Lum said.
"But it's my first time stage racing, and first time racing here. I'm fairly new to ultra running, my first ultra was in 2015, last year I did mostly road running and marathons, and this year I wanted to achieve a few longer goals.
"Apart from the actual racing, just running with other competitors was fantastic, and to share the scenery and seeing things I'd never seen before was what made it; it was fantastic, and the scenery is just amazing."
Nicholl, also a first-time stage racer didn't let the heat affect her, and came away with the overall female win and third overall in the Long Course Malbunka race.
"I'm in total shock, I said I'd be really happy with an age group podium; I'm just in complete total shock. I did train quite hard, but I thought the heat would really take it out of me," Nicholl said.
"I don't normally run day after day, it's that backing up day after day that's difficult. But it's the people that make it, we're all out their struggling with the same conditions, and I've made some really great new friends.
"The whole experience was way beyond my expectations, until you see it with your own eyes you don't realise how stunning it is. But it was hard!"
Over in The Namatjira shorter course, two runners also dominated the four days – with ultra endurance athlete Courtney Atkinson, 37 from Mermaid Waters, Queensland and Jessica Short, 34 from North Fitzroy, Victoria winning each of the four stages and overall.
Over 120 runners from across Australia and overseas travelled to the Red Centre for Run Larapinta which has become a drawcard for runners both recreational and elite; partly due to the powerful allure of the Larapinta Trail with its incredible terrain and scenery, and the attraction of the challenge, adventure and accomplishment this unique stage racing event offers.
Race Director Sam Maffett from Rapid Ascent Adventure Sports Event Management said that over the three years, it was definitely the hardest conditions Run Larapinta had been held in.
"It wasn't expected as the courses are the same, but it was a lot harder because of the weather conditions, it's unseasonably hot, and when you're running through 33 degrees here in the sun – it is difficult," Maffett said.
"We took steps to provide additional support to the runners; we brought in an additional water point, and brought the race starts forward today, so runners could start in the cool.
"People are all proud and satisfied and happy - overall, it was another terrific event. It has shown new people new landscapes and given them a big challenge that they've stepped up to and completed so they should be very proud of themselves."
Run Larapinta featured races of two different lengths with The Malbunka being a long course option with stages between 20km and 45km each day, whilst The Namatjira provides a shorter option with stages varying between 11km and 30km over the four days.
For more information about the Run Larapinta Stage Race head to RunLarapinta.com.au
RESULTS
THE MALBUNKA - OVERALL STANDINGS
1. Troy Lum (17:15:40)
2. Aaron Royall (17:30:32)
3. Gary Philpott (18:14:34)
THE MALBUNKA - OVERALL STANDINGS - FEMALE
1. Deb Nicholl (18:02:46)
2. Kristen Brace (19:36:09)
3. Marie Heitz (20:37:12)
THE NAMATJIRA - OVERALL STANDINGS
1. Courtney Atkinson (7:29:27)
2. Thomas Windsor (8:56:45)
3. Matt Watson (9:12:37)
THE NAMATJIRA - OVERALL STANDINGS – FEMALE
1. Jessica Short (9:26:26)
2. Eliza Edkins (10:40:01)
3. Julie Day (11:17:28)