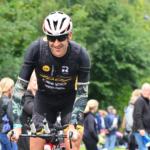 Official Ironman hotel pins hopes on two of 'their own'
17 August 2017, 12:12PM
Dave Bowers
Staff at the Hotel Quinta da Marinha Resort, near Lisbon, will be cheering on two of 'their own' when the Ironman 70.3 Cascais event takes place next month.
The former world and European triathlon champion Vanessa de Sousa Fernandes is currently living in a villa on the resort, in Cascais, and is using the five-star venue - the official hotel of September's Ironman 70.3 Cascais - as her training base.
And the resort's general manager, Paulo Figueiredo, a keen triathlete, will also be taking part, just five years after he participated in his first event.
He explained: "In May 2012, I weighed 106kg and could not even keep pace with my 10-year-old son in a short walk. So, on the spur of the moment, I decided to do something about my fitness and - unbelievably, in retrospect - I signed up for my very first triathlon.
"It changed my life. In just the first five months of training and competing I had lost 23kg in weight and had completed my first 'super sprint' race. Now, I weigh 73kg and I train for between 15 and 20 hours per week. I'm very lucky because - like Vanessa - I'm able to use the excellent facilities here at Quinta da Marinha Resort, which is fast becoming a popular base for triathletes in training."
He added: "It will be a great thrill for me to be able to take part in what is effectively a 'home' event for me. I'm getting quite excited by the prospect and am hoping I give a good account of myself in front of so many friends, family and colleagues."
Ironman 70.3 Cascais takes place on September 3 and has the largest number of registrants for a triathlon in Portugal and the highest number for a debuting Ironman event, with 17 per cent of the participants heading to Cascais from the UK.
The multi-award-winning, family-owned Hotel Quinta da Marinha Resort - which opened in 1999 and was extensively remodelled in 2014 - is an excellent base for triathletes in training. It also overlooks the Atlantic Ocean and is complemented by an outstanding Robert Trent Jones Snr-designed golf course, which dates from 1984.
Part of the 'Great Hotels of the World' portfolio, Hotel Quinta da Marinha Resort is an ideal venue to enjoy a romantic break, hold important meetings, play golf, learn to surf, enjoy a cycling break or simply relax in luxury and comfort in the heart of nature. Its facilities include swimming pools, tennis courts, restaurants, 11 meeting rooms, a health club, complimentary beach shuttle service and one of the most beautiful and prestigious golf courses in the region.
Onyria Golf Resorts also owns the nearby, much-acclaimed Monte Mar seafood restaurant which has been frequented by many A-list celebrities including President Bill Clinton.
www.quintadamarinha.com