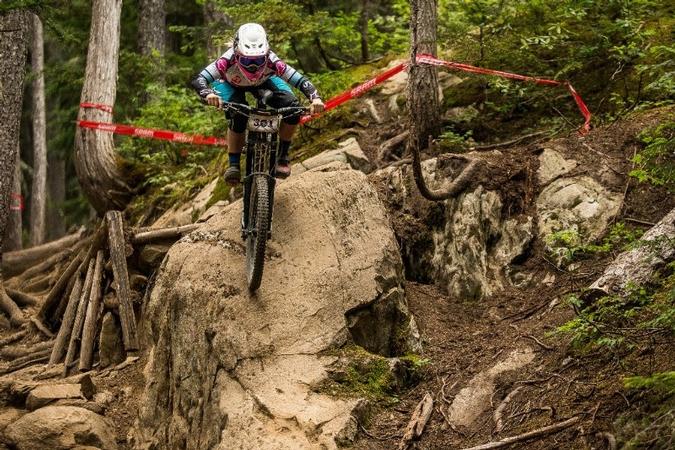 High fives for five-time Garbanzo DH winner!
17 August 2017, 12:33PM
Crankworx Official
Tuesday, August 14, Whistler, BC— It might be more of a football term, but Colombian downhill mountain bike racer Marcelo Guitierrez Villegas clearly knows what it means to "Go Long."
Tuesday afternoon, he won the iconic 6.5-kilometre Garbanzo DH, the first of the three Crankworx Whistler downhills, for the fifth time in a row. It is one of the longest downhill races in the world—if not the longest on the current race scene.
"The more I win it, the more I want to keep winning it, and you just feel the pressure because you don't want to let the people down," he said. "Today, I was definitely battling myself."
Pulling into the finish in a blistering 12:21.19, he narrowly missed his time from the previous year of 12:19.28, his fastest time to date, and said he's pretty sure it's just pure grit keeping him on top.
"I think it's just Sam, Jack and me just keep trying the hardest," he said. "People just kind of give up, but me I'm just loving it. Sometimes people ask me what's my favourite track in the world and I answer Garbo. I am just loving it all."
GIANT Dual Slalom presented by 100%
Friday, August 18, 6:00-8:00 p.m. PDT
Saturday, August 19, 3:00-5:00 a.m. CEST
Saturday, August 19, 1:00-3:00 p.m. NZST
Canadian Open DH presented by iXS
Saturday, August 19, 3:30-5:30 p.m. PDT
Sunday, August 20, 12:30-2:30 a.m. CEST
Sunday, August 20, 10:30 a.m.-12:30 p.m. NZST
Red Bull Joyride
Sunday, August 20, 10:30 a.m.-1:30 p.m. PDT
Sunday, August 20, 7:30 p.m.-10:30 p.m. CEST
Monday, August 21, 5:30-8:30 a.m. NZST