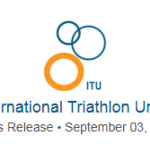 After successful inaugural event in Penticton, Canada the ITU Multisport World Championships look forward to 2018 in Fyn, Denmark
5 September 2017, 6:08PM
International Triathlon Union
The inaugural ITU Multisport World Championships Festival completed on August 27 after a successful ten-day event in Penticton, Canada that drew in over 3,000 athletes from all over the world to compete in five different multisport competitions.
After over two years of preparation and planning, the success of the first-ever event was evident as the city of Penticton saw 507 medals awarded among age group, junior, under-23, elite and paratriathlon levels. Ten gold medals were also awarded as ten elite men and women were named Multisport World Champions.
"What an honour for myself, the LOC and the City of Penticton to host the inaugural ITUMWCF. We were very excited to see thousands of athletes around the globe come to Penticton to compete. Huge thank you to all the staff, volunteers, sponsors and stakeholders that supported the event, especially the city of Penticton and the province of BC. We wish all the best to Fyn, Denmark as the prepare for the 2018 ITUMWCF," said Michael Brown, Executive Director of Penticton 2017.
With the completion of the festival in Penticton, the torch has now been passed to the European nation of Denmark, where the 2018 ITU Mulisport World Championships Festival will be held on the island of Fyn.
Taking place from July 6-14, 2018, the festival will see the same format that was conducted in Penticton, where ITU World Titles will be won in duathlon, aquathlon, cross triathlon, aquabike and long distance triathlon. Fyn will set a unique stage as the event will be showcased across three host cities, Odense, Svendborg and Middelfart.
"In Penticton we have seen how the new ITU Multisport Festival format has become a great event. We are looking so much forward to welcoming both athletes, their families and spectators to the island of Fyn next year. With the Danish tradition of hosting sporting events and the strong collaboration between Sport Event Denmark, Sport Event Fyn, the Danish Triathlon Federation and the local clubs I am sure we can take the next step in developing this festival," said Morten Fenger, Managing Director of the Danish Triathlon Federation.
With the goal of growing the multisport world by increasing participation and awareness, ITU is excited about next year's event in Fyn and is confident that the event will be as successful as this year's inaugural celebration.
"The first-ever ITU Multisport World Championships Festival in Penticton was a huge success. This new approach into celebrating the sport of triathlon and the world of multisport events has been a huge step forward into growing the sport and continuing to create new ways for the sport's community to enjoy it. From ITU we thank everyone who helped make Penticton possible and we are looking forward to working with the Danish Triathlon Federation to put on another great event next year in Fyn!", said ITU President and IOC Member, Marisol Casado.