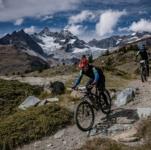 Daniel Geismayr (AUT) and Jochen Käss (GER) win the PERSKINDOL SWISS EPIC 2017, Esther Süss (SUI) und Jennie Stenerhag (SWE) take the victory in the women's category, Zermatt (SUI)
23 September 2017, 11:21AM
niklas.gerer
They've won it this time! The "forever second", Daniel Geismayr from Austria and Jochen Käss from Germany, representing the CENTURION VAUDE team, resolutely defended their lead as they finished first for a well-deserved and possibly even overdue victory at the fourth attempt. "We've finally broken the jinx, this is a really big win for us", said Jochen Käss. "We feel so proud and are really delighted." – "Our teamwork was again impeccable throughout the week – that's what made the difference and brought us the win", explained Daniel Geismayr.
The leaders going into the final stage of the women's race, Team Meerendal CBC with Esther Süss from Switzerland and Jennie Stenerhag from Sweden, also won the overall event. "It was tough mentally to stay ahead of our competitors and the trails were really challenging", commented Esther Süss on her first PERSKINDOL SWISS EPIC win. "It's a great weight off my shoulders and I'm beyond happy." Jennie Stenerhag said: "That's the fourth stage race we've won together this year. We worked in perfect harmony again."
PERSKINDOL SWISS EPIC is a six-day mountain bike stage race in the Valais, Switzerland, held for the first time in 2014. The stage race takes place every year in September and attracts riders from all continents. The fourth edition is taking place from 11 to 16 September 2017. In a prologue and five stages, professional and ambitious amateur athletes will be riding from Grächen to Zermatt via Leukerbad in teams of two. In the longest race format, SWISS EPIC, they will complete a distance of around 350 kilometres with an elevation gain of 12,000 metres. On the SWISS EPIC FLOW course, some of the ascents are climbed using a shuttle. In the short format EPIC 2 DAY riders participate in the last two stages.