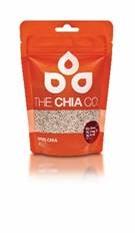 Introducing: The Chia Co. Nothing But Sustainably Grown Chia Seeds
27 October 2017, 12:15PM
Katie West
Nutritional, natural, ethical and sustainable, The Chia Co. consistently delivers a positive contribution to global health through high quality chia, and the good news? They are now available in New Zealand.
Founded in 2003 and farmed sustainably in the Kimberley region of Western Australia, The Chia Co. is the world's largest producer of chia. The Chia Co. is passionate about plant based nutrition and taking care of the planet, using innovative, sustainable farming methods to grow chia. Using a gravity fed irrigation system, all crops receive the perfect dose of water to grow and ripen naturally in the sun, and while consumers benefit from chia's impressive nutritional profile, The Chia Co. manages a fair value farming model, giving back to chia farming communities so they can reinvest. To complement The Chia Co.'s sustainability ethos, its supply chain is completely transparent, with the ability to trace all chia seeds from the packet back to the paddock in which they were grown.
Of the belief that a well-balanced diet shouldn't be complicated, The Chia Co. specialises in delicious ready-to-eat chia products and chia in its simplest, purest, sun ripened form. Being one of the very few grain-like seeds that can be eaten completely in its natural state, chia is the highest combined plant source of omega-3, fibre and protein.
Boasting a variety of chia products ranging from pure white and black Chia Seeds to the coveted cold pressed Chia Oil, The Chia Co. products can be incorporated into any meal, adding nothing but absolute nutrition. Chia can be eaten without processing and cooking, making it an excellent health boosting ingredient in salads, smoothies and cereals. When soaked in liquid, chia produces a gel that works well as an egg substitute in vegan baking or enjoyed as a chia pudding. With an intent to educate the world, The Chia Co. website is a great resource and introduces visitors to dozens of chia recipes.
For more positively simple ways to enjoy chia visit thechiaco.com
The Chia Co. - For a positively simple contribution to your health and the global community.
The Chia Co. Chia Seeds White 150g/500g/1kg RRP$5.69/$16.99/$27.99
The Chia Co. Chia Seeds Black 150g/500g/1kg RRP$5.69/$16.99/$27.99