Designer Brands New Brushes + Hero Products - Media release + Images
30 October 2017, 7:46PM
Wright Communications
ALL IN ONE PERFECTING BRUSH RRP $17.99
Build coverage, contour and blend-in creams and powders – this brush can do it all!
With a unique head shape, densely packed bristles and an easy-grip handle, this all-in-one brush does the hard work of several individual brushes. Use the long edge of the brush to sweep foundation across the planes of the face and use the narrow edge of the brush to contour, bronze and apply highlighter to the face and body, with super precision.
Synthetic brush fibres blend out liquid and powder formulas beautifully, without any hint of streaking. Easy to clean, this brush is unique and highly versatile.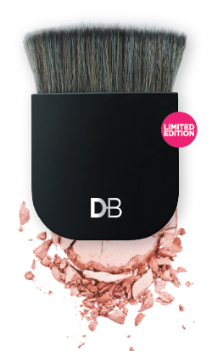 COMPLEXION PERFECTION KABUKI BRUSH RRP $14.99
A multi-functional brush that is perfect for applying powder, bronzer, blush and highlighters.
Soft and supple fibres and an easy-to-use handle make this kabuki brush a must have in your makeup kit.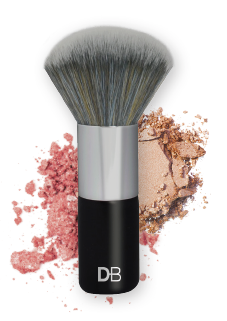 COMPLEXION PERFECTION POWDER BRUSH RRP $14.99
With a tapered tip for precision powder application, this powder brush applies powders and blends them out to perfection.
Excellent for contouring and the subtle use of blush and highlighter.

DESIGNER BRANDS EXTEND A LASH RRP $ 24.99
A first in mascara innovation is this power duo that combines a fibre formula that adds up to 8mm in lash length with a high-tech tubing mascara that coats and sets each lash within a tube. Extend A Lash combines a unique 3 step system, starting with the tubing mascara, followed with the hi-tech fibre formula which will adhere to your own lashes to build volume and length, then sealing lashes with a final coat of tubing mascara, ensuring 24 hour wear.
The more coats applied the longer, fatter and fabulous will be the lash result. What's even better is the easy removal - simply apply warm water and gentle pressure to lashes, and tubes simply glide off lashes, meaning no more panda eyes! Free of talcs, bismuth and parabens. CCF and Vegan Certified. Safe for contact lens wearers and sensitive eyes.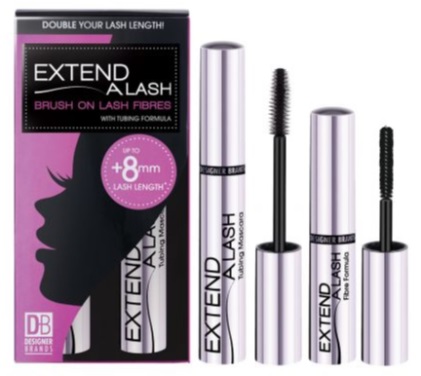 DESIGNER BRANDS FALSE AND FLARED MASCARA RRP $ 16.99
Now you can achieve truly fanned out false effect lashes in a snap, with DBs newest mascara! Equipped with an easy to use brush that lifts and separates every individual lash for the ultimate effect and a quick-setting gel formula that keeps lashes perfect all day- no smudging or flaking! The formula is highly buildable, flexible and also contains lash loving ingredients Pro Vitamin B5 and Serine; that will leave lashes feeling conditioned and nourished while allowing for easy removal at the end of the day. Lash plumping collagen provides unprecedented volume for a truly eye-popping look.

DESIGNER BRANDS ABSOLUTE PRECISION LIQUID EYELINER PEN RRP $ 10.99
The easy to use, precision liner is a longwearing, smudge-proof formulation made from an intense black pigment. The pointy, felt tip applicator ensures that you can create any look, from eye defining to intense bold lines, quickly and easily. The dramatic effect of a liquid liner plus the precision of a pencil a beautiful look with no mess at all. Free of talcs, bismuth and parabens. CCF and Vegan Certified.

DESIGNER BRANDS EXTEND A BROW RRP $ 14.99
A Designer Brands crowd favourite is the popular Extend A Brow - an instant brow volumiser. Containing brush-on silky fibres, this original formula will transform, correct, define and thicken brows in just two seconds. Designer Brands Extend A Brow is an ultra-fine mineral powder and tiny silky fibre formula that bonds to eyebrows to provide a fuller, more defined look in seconds. This innovative, easy to use product will give you on-trend luscious brows whether you just need to fill in a few gaps for a natural look, or you're after a bold Cara Delevingne inspired statement.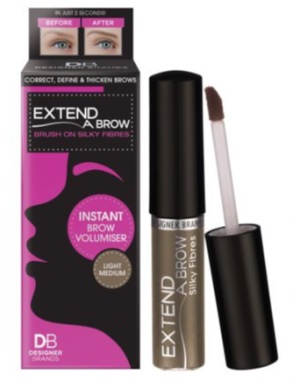 DESIGNER BRANDS QUICK COLOUR NAIL POLISH RRP $ 10.99
DB's Quick Colour Nail Polish is Australia's fastest drying nail polish. In just 30 seconds, your nail polish will be touch dry! The high-gloss, chip resistant finish of Designer Brands Quick Colour Nail Polish contains no formaldehyde or toluene, and the innovative precision brush ensures a streak-free application. Certified Cruelty Free and Vegan Certified.

DESIGNER BRANDS INVISIBLE LIP LINER RRP $ 9.99
Designer Brands Invisible Lip Liner primes lips while defining and contouring. Creamy and long-lasting, it's the perfect lip base to prevent feathering and promote longevity of your lip product. Made with synthetic beeswax, Designer Brands Invisible Lip Liner is Certified Cruelty Free and Vegan Certified, and also free from nasties as it contains no talc, bismuth and parabens.