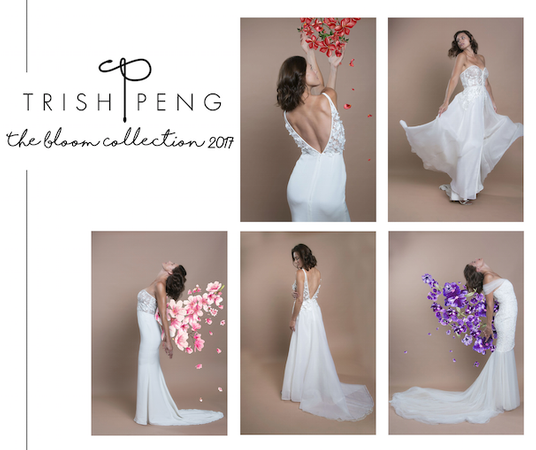 Introducing: The Bloom Collection 2017.
8 November 2017, 4:08PM
Lily & Louis
With inspiration drawn from flowers in all their feminine forms, LA-based couturier Trish Peng was inspired by the poetry and ultimate expression of bridal beauty for her latest bridal collection to land in New Zealand.
For New Zealand Fashion Week 2017, the appearance of the fresh flower dress chilled to perfection wowed us. Consistently inspired by effortless elegance, feminity and floral themes, expect Trish Peng's new bridal images and lookbook to amplify that trend.
With stylish floral graphics hand-drawn by New Zealand designer Lauren Earl, the layover of a floral motif is equal parts luxe organic and ethereal. LA-based Sarkis Studios have photographed the models to reflect femininity and attitude.
Trish Peng collaborates with these top designers and photographers to embrace visual culture, beauty and art.
skirts, dramatic silhouettes, innovative embroidery, lace and silk sourced from all over the world are available through the brand's boutique stores across New Zealand. Brides-to-be can either choose a design, mix and match features or request bespoke bridal designs from Trish Peng's Auckland or LA showrooms.
The Bloom Collection 2017 has details that feel unexpected, feminine and undeniably wearable.