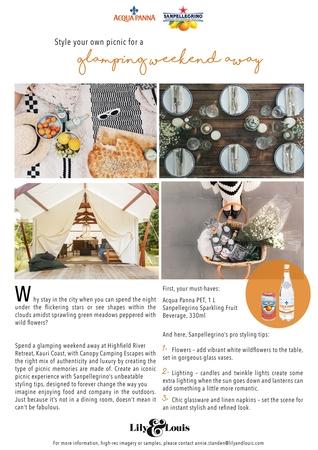 Sanpellegrino Glamping Weekend Away Release
8 November 2017, 4:26PM
Lily & Louis
Why stay in the city when you can spend the night under the flickering stars or see shapes within the clouds amidst sprawling green meadows peppered with wild flowers?
As the evenings get lighter and our nights get warmer, glamping at Highfield River Retreat, Kauri Coast, is an absolute must-do. Create an iconic picnic experience with Sanpellegrino's unbeatable styling tips, designed to forever change the way you imagine enjoying food and company in the outdoors.
Please find the Sanpellegino Glamping Weekend Away release attached, and high res images for download here.
For more information about the wonderful Highfield River Retreat, click here. If you require any more information or imagery, please don't hesitate to ask!