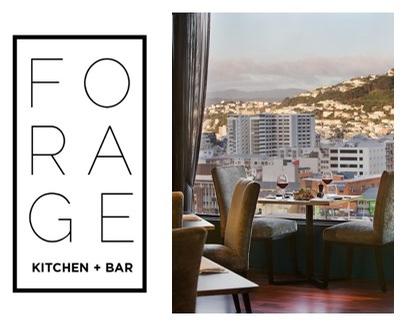 Top 6 Things to Tick off the Wellington Bucket List this Summer
13 November 2017, 5:16PM
Lily & Louis
As the world's Coolest Little Capital, Wellington displays a big heart bursting with culture and vibrant urban life. Downtown Wellington is abuzz with locals and tourists alike, enjoying variations of its museums, theatres, galleries, restaurants, boutiques and bars, with its famous selection of coffee and a thriving craft-beer scene.
Discover the heart of the capital city and experience Wellington's eclectic mix of arts, culture and hospitality this Summer.
Treat yourself to a local produce feast and exceptional views at Forage
Step into a locavore's dream. Forage Kitchen + Bar is founded on belief that local is best.
From fresh Moana market fish to Black Angus eye fillet, served with Otaki Agria and wild Kapiti mushrooms, all dishes celebrate locality and Wellington's fresh produce and culinary culture.
Lounging atop the recently refurbished Grand Mercure Wellington, there is no fear if dinner goes on too long, or you have too much fun – as a stay on site at the hotel would amplify the Forage experience.
Top tip: Book a window seat and dine with panoramic views of downtown Wellington.
Where: 345 The Terrace, Wellington 6011, New Zealand 04 4-385 9829
Put your best foot forward at Wellington Cup Day
Bringing together the perfect mix of fashion, racing, champagne and live music is Wallaceville Estate Wellington Cup Day. Wear your finest heels and don the smartest suits for the ultimate summer party.
Enjoy the company of the impeccably dressed crowds, the popping of corks and the thunder of the hooves. When the last race is over, get together and kick up your heels to celebrate with an international headline act performing live in concert.
When: 20 January 2017
Try something new at Garage Project Taproom – 91 Aro Street
Just up and over the road from the original Garage Project Cellar Door and Brewery sits proudly the Garage Project, the darlings of the Welly brewery scene and well-known for their approach of pushing boundaries, reinterpreting styles and challenging the status quo of beer.
With 18 taps and two cask lines, cans and bottles and some specially tucked away cellar brews, this is the perfect place to test your palate and try something new. Chef Shepherd Elliot (of Ti Kouka and Shepherd) has put together a delectable snacking menu, which includes platters of cheese, bread and pickles, and freshly shucked oysters.
Discover your favourite beer and pop across the road to the Cellar Door to stock the fridge at home.
Enjoy Gelato, and Fish & Chips at Oriental Bay
Just a few minutes' walk from the city centre, this popular golden sand beach is a popular destination spot for lovers of strolls, admiring the chicest real estate in the city, cycling or relishing the vibrant atmosphere.
Recently Oriental Bay was named #2 in the Travellers' Choice Top Ten Beaches in New Zealand by Trip Advisor. It's also the perfect spot for a gelato – you can't miss their regularly changing flavours from Carrello Del Gelato, the ultimate great Kiwi great fish and chips on the beach with some delights from the Mt. Vic Chippery.
Discover art on the waterfront with the Waterfront Sculpture Trail
Art lover fear can will take delight in exploring Wellington's scenic waterfront by taking a self-guided walking tour around the wonderful, weird and windswept sculptures that line the water's edge.
The path takes about an hour and includes the popular and much-photographed lone figure of Solace of the Wind and Wind Whirler, Len Lye's kinetic water sculpture.
Weta Cave Workshop Tour
The Weta Studio Tours is your portal to immersive filmmaking experiences in Wellington, New Zealand where you can join the Weta Workshop crew on an exclusive behind-the-scenes Weta Cave Workshop Tour.
Proudly exhibiting authentic practical effects created for cinematic blockbusters The Lord of the Rings, The Hobbit, District 9, Elysium among others will make you feel like you're in the middle of a scene from your favourite movies.
With a plethora of interesting activities, catch a glimpse of artists at work on the tour stage or take a keen a voyeuristic look through windows that look directly into the Workshop and hear stories from the crew, many of whom have worked on the films themselves.