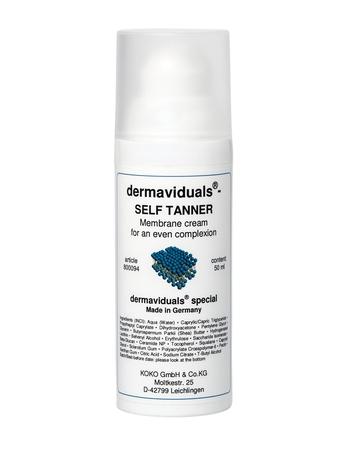 Introducing the new dermaviduals self tanner
23 November 2017, 4:39PM
360 PR
dermaviduals, the leader in bespoke scientific skincare and beauty, is pleased to announce their new Self Tanner just in time for summer. The dermaviduals Self Tanner helps reduce uneven skin tone caused by tiny blood vessels near the surface, spider veins and acne scars to create beautiful, even skin.
Managing Director of dermaviduals, Reika Roberts, says, "As summer approaches, the harmful UV radiation is out in full force. The dermaviduals Self Tanner is a great alternative to a sun tan, without the harmful effects. It is truly unique and as always, the Self Tanner is pure (no nasties!) and based on science using their world-renowned DMS technology that won't irritate the skin and provide a natural, healthy glow."
The membrane cream (lamellar structure) has active agents DHA (INCI: dihydroxyacetone) and erythrulose to provide an even tan and complexion. dermaviduals uses only the highest quality ingredients that are fragrance free and won't irritate or cause breakouts.
Key benefits of dermaviduals Self Tanner:
• Subtle, natural colour that can be applied on several consecutive days to intensify the tanning product
• Streak-free appplication
• Creates a smooth, soft texture on the skin and improves complexion
• Can be used on face and body
• Leaves the skin feeling soft, moisturised and hydrated
• Regular skincare can be applied after the tanner has penetrated
• Maximum tanning effect will appear after 24 hours
• Product can be applied on several consecutive days to intensify the tan
• Lasts up to a week
The Self Tanner can be used for all skin types, with hypo and hyper pigmentations able to be optimally balanced to even skin tone and reduce the appearance of white spots, vitiligo areas and age spots. This Self Tanner will prepare your skin for summer by being gentle on the skin, enhancing the journey to skin health. dermaviduals is now available in over 45 clinics across New Zealand. The range now includes cleansers, serums, face and body moisturisers, bespoke mineral makeup. dermaviduals Self Tanner RRP $78.00 – www.dermaviduals.co.nz