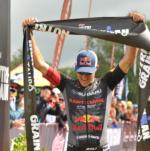 Currie Happy To Be The Target At Ironman 70.3 Taupo This Weekend
7 December 2017, 12:29PM
IRONMAN
Fear or trepidation are not words you associate with leading triathlete Braden Currie, he races like his life depends on it every time he pulls on the lycra. Little surprise then that the 31-year-old welcomes the pressure of being race favourite as he sets out to defend his IRONMAN 70.3 title.
"In my mind it is good to be race favourite, it is good to have a target," said Currie ahead of this Saturday's race.
"Being defending champion is not so much a factor, but a home race is really important to me. I pushed hard at the Asia Pacific Champs last week but probably didn't give it that 10% extra that I have at home. Taupo is one of my favourite places to race, and the course gives me plenty of motivation and inspiration."
Currie has in fact won this race two years running, so understands what is required to race well at this time of the year, but this year saw him race at the IRONMAN World Championships for the first time, leaving him understandably a little leg weary, but no less determined on Saturday.
"I definitely feel like I am at the end of my season and am a little tired, but I am really excited to race this weekend and won't hold anything back. This feels like my last race this year and that is a really good headspace to be in, I will definitely race as hard as I can and go for the win and what will be will be.
"It has been a very long season, I put a lot into IRONMAN World Champs this year, from qualifying at IRONMAN New Zealand and then going to the Asia Pacific Champs in Cairns to get enough points, and then I had some very big training blocks on the road to Kona. I haven't really stopped since then with XTERRA Worlds and 70.3 Asia Pacific Champs a week ago."
Currie knows the competition is waiting for any signs of weakness, with a strong field of New Zealanders and internationals on the start line in Taupo on Saturday, identifying two to be wary of.
"These days we have to be tactical in how we race. I am pretty sure Mike (Phillips) is racing, he gave me such a challenge last year and surged towards the end of the race. Dylan (McNeice) is back and we know he is an incredible swimmer and will open up the race early on, it will be interesting to see who will go with Dylan or if he ends up by himself."
McNeice however is playing down the prospect of a sizeable lead out of the water, the 32-year-old is looking for a big summer in New Zealand after hip surgery this time last year hindered his European summer. But it is an incident not long after his return home that might slow his progress most on Saturday.
"One week into training I came off the mountain bike and smashed my ribs up a bit, meaning four weeks without any swimming or running. I have salvaged a little bit of shape though and while I won't be on fire on Saturday, I am just looking forward to mixing it up and racing in New Zealand again.
"I am not going to look to do what I usually do and lead the swim and attack the race from the front, hopefully I can stay hidden, follow the lead if I can and then run as fast as I can. A good result from that will add up to a good day."
Currie has a similar philosophy, with the prospect of multiple contenders coming together on the run to spice things up for those watching the race.
"Taupo is very beautiful course, I am excited to see it is a three-lap run course which will be a lot of fun for us and for the spectators to see us each lap. The swim is open and can be choppy and change the race dynamics, but you do your best to stay in the front bunch and be ready to strike at the end."
Others to watch include the aforementioned Mike Phillips (Christchurch), the Kiwi continues to impress on the global IRONMAN circuit, posting the fastest time in the history of the sport for a debutant over the IRONMAN distance, when finishing second in Barcelona this year in 7:52:50.
Aussie based Kiwi Callum Millward has made the call to race after an abbreviated day at IRONMAN Western Australia last weekend. The swim was cancelled due to a shark sighting, but Millward's day was even shorter, thanks to a crash on the bike that left him a little bruised, but ready to go again this weekend in Taupo.
Ben Collins (USA) will be amongst the internationals looking to impress, the 34-year-old comes from an ITU Olympic distance background and picked up his first 70.3 win in Chile (Pucon) in 2016 and backed that up with a victory in Israel earlier this year.
The Australians are here in force too, with Casey Munro, David Mainwaring, Alex Polizzi, Tim Rea and Paul Speed all capable of standing on the podium in this company.
The Pro Men's race gets underway at 6:15am Saturday morning, with the Pro Women setting off at 6:18am, followed by age group athletes and teams.
IRONMAN 70.3 Taupo – Pro Males
Braden Currie, 31 years old, New Zealand
Former multi-sport star turned to IRONMAN racing, winning the Kellogg's Nutri-Grain IRONMAN NZ title in 2017 and twice a winner of the 70.3 Taupo event. Currie knows only one way to race, and that is hard from the gun.
2015 and 2016 70.3 Taupo Champion
2017: IMNZ Champion, 3rd IM Asia Pacific Champs Cairns, 1st Santa Cruz 70.3, 3rd Asia Pacific 70.3
Mike Phillips, 26, New Zealand
Phillips is a relative newcomer to the longer form of racing, coming from an Olympic distance background, the Christchurch athlete threw in his fulltime job in 2016 to give the sport a crack and posted the fastest time by an IRONMAN debutant when finishing second in Barcelona in 2017.
2nd Taupo 70.3 2016
2017: 1st Bintan 70.3, 2nd IM Barcelona, 3rd Vietnam 70.3
Dylan McNeice, 32, New Zealand
McNeice proved a huge hit in the sport when he turned to the longer distances from Olympic racing, immediately winning Challenge Wanaka 3 times and finishing on the podium at IRONMAN New Zealand. On the road to full fitness again after hip surgery at the end of 2016.
3 Podiums 70.3, 3rd IMNZ, IM Cairns 2015.
2015 – win and podium in Challenge events in Europe
Ben Collins, 34, USA
Visiting New Zealand for the first time, Collins was captain of the Columbia University swim team, graduating in 2005. Collins spent ten years racing on the ITU circuit, with 4 WTS race starts.
1st 70.3 Pucon 2016 – plus further podiums and top-10s
Callum Millward, 34, New Zealand
Always a contender, the now Australian based Millward is as famous for his 'Cup Cakes with Cal' video series of interviews on YouTube as he is for his racing, as he brings his irreverent sense of humour to the sport. Has training in the legs after an early finish at IRONMAN Western Australia due to a bike crash.
Lives in Sunshine Coast. 1st Boulder 2015. 10 Podiums
2017: 2nd IM Louisville, 9th IM Texas, 6th 70.3 Sunshine Coast '17
Sam Clark, 27, New Zealand
Like Currie, bringing a reputation in multi-sport one-day races to IRONMAN racing, he was top ten here two years ago
2x Coast to Coast champ, 7th IMUK '15, 8th Taupo 70.3 '15
Simon Cochrane, 33, New Zealand
Semi-Pro, 3rd IM Japan '15, 5th IM Cairns '15, 3rd IM Taiwan '17, 8th 70.3 Sunshine Coast '17
David Mainwaring, 27, Australia
Won 70.3 West Sydney 2015, 6th in 2016.
Casey Munro, 32, Australia
1 podium but 19 career top-10s. Strong swim biker
2017: 5th 70.3 Busselton, 4th Sunshine Coast, 10th Bahrain
Paul Cameron, 27, New Zealand (Taupo)
The local hope in the men's field, relative newcomer to Pro racing but will know the course better than anyone
Age Grouper turned pro 2015.
Alex Polizzi, 29, Australia
Several 4ths and 5ths. 2017: 4 Vietnam, 5 Bintan, 5 Thailand
Tim Rea, 28, Australia
Good age grouper turned Pro
2017 5th 70.3 Miami, 15th Worlds 70.3
Schroeder, 22, USA (New York)
Turned pro 2016
Paul Speed, 33, Australia
Good Age Grouper turned Pro 2016. 9th 70.3 Busselton '17.
Accreditation
Media are invited to apply for accreditation to this Saturday's IRONMAN 70.3 Taupo. Please do so by replying to this email with the following information:
Name:
Contact number (mobile):
Organization represented:
Type of media (print, online, radio, TV, photo):
Timeline of Events
Friday 8 December
10:00am to 7:00pm Information Centre Open, Great Lakes Centre
10:00am to 7:00pm Sports and Lifestyle Expo, Great Lakes Centre
2:00pm to 2:30pm Pro Athlete interviews at Great Lakes Centre, by prior request only
2:30pm Pro Athlete briefing, Great Lakes Centre
3:15pm NOTE NEW TIME Media briefing, Great Lakes Centre
4:00pm Kids Fun Run, Northern Domain
Saturday 9 December
6:15am Pro Men start
6:18am Pro Women start
6:24am Age Group start
7:00am Final AG wave start
6:38am First Pro Male expected in T1
6:43am First Pro Female expected in T1
8:50am First Pro Male expected in T2
9:05am First Pro Female expected in T2
10:06am First Pro Male expected at finish line
10:31am First Pro Female expected at finish line
3:00pm Cut off time (8 hours)
3:30pm Award Presentations start, Stage, Northern Domain