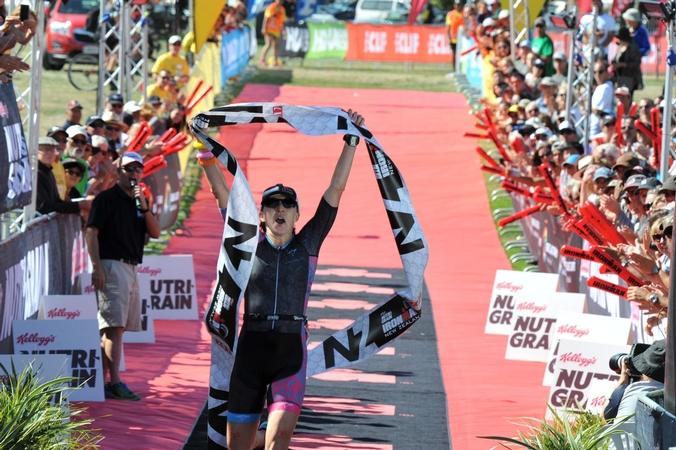 Stellar Women's Field Lines Up At Ironman 70.3 Taupo
7 December 2017, 12:45PM
IRONMAN
Laura Siddall is a little tired of standing one step down from the top of the podium this year, and the 37-year-old British athlete could be excused for thinking Taupo has it in for her more than most venues, with runner up results at the 2016 70.3 Taupo and 2017 Kellogg's Nutri-Grain Ironman New Zealand events.
Siddall or 'Sid' as she is known, will be amongst one of the strongest fields ever assembled for the 70.3 Taupo event, notable for the presence of 2017 IRONMAN New Zealand winner Jocelyn McCauley (USA), Aussie starlet Ellie Salthouse, and a host of Kiwis capable of taking the honours from the internationals.
For Siddall however, those second-place results lead to an even stronger desire to cross the line first at the 2017 70.3 event this Saturday.
"I've had a few second places this year! That second behind Meredith by eight seconds was the start of it, and then the second at IRONMAN New Zealand in March. Of course that drives me in general in my training and racing. You are constantly working for the performance where everything just clicks, and/or you just put it all on the line and get the very best out of yourself and abilities.
"I love Taupo and the races here so would definitely like to go one better come Saturday and it would be very special to do that."
Siddall is however realistic about what can play out in what is the first race of her Southern Hemisphere season, after a brief break from training.
"This race is a bit of an unknown. It's been a long season, starting with Taupo 70.3 last year. I've just had a few weeks off, and so I'm only a couple of weeks back into training again, so I'm pretty open with my expectations.
"That said I'm lining up and on the start line, so of course I want to put in a good performance and hopefully that will put me somewhere near the right end of the field at the finish line!"
The woman who defeated Siddall in March this year at IRONMAN New Zealand is again likely to be in her sights on Saturday, Jocelyn McCauley (USA) loved that experience so much, she has returned this week to get another taste of the triathlon mad town.
"I love Taupo and I often visualize myself on this course during a hard workout, it always makes me feel better. Any day in Taupo is a good day!
"After Kona I took three weeks off to be with my family. That is the longest off-season I have ever had and so these last five weeks have been building back base fitness. Five weeks may not seem like that much, but I was in the best shape of my life going into Kona so that fitness is a lot easier to gain back. My main goal in racing is to have fun. If you have a smile on your face things will come a lot easier to you and we do this because we enjoy it!"
Siddall won't have eyes only on McCauley though, highlighting the depth of the field this year as the race continues to gain traction with the internationals and locals alike.
"It's really exciting that the field at Taupo gets better and better each year and I think it is testament to the fantastic community here in Taupo and the work of the event team," said Siddall.
"I think the woman to watch will be New Zealand's own Amelia Watkinson. She's had another great season in Asia and comes of a third place at Asia Pacific Championships a couple of weeks back. She's also a regular on the podium here in Taupo.
"Ellie Salthouse is another class athlete and could definitely take the win while Jocelyn is flying in from the USA and won Ironman New Zealand on this course in March. Then Gina Crawford is back racing so another one to watch, as well as a whole host of New Zealand athletes and some global athletes that are incredibly capable of mixing it up for the podium. I think it's going to be a fantastic race!"
Indeed, Crawford's presence is an intriguing one. Having retired and returned to live in her home town of Christchurch last year, Crawford is these days an IRONMAN accredited coach and mixes coaching with a busy family life and a role in the Christchurch Symphony Orchestra, her return to racing has been somewhat under the radar.
One constant that comes through loud and clear from the visitors to any race in Taupo, be they age groupers or Pro athletes, is their love for the town and the people who help make the races tick.
"This is my fourth-time racing in New Zealand and I just love it here," said McCauley. "I feel like I am coming home when I come to Taupo. Part of my heart is always left here on the course so it's always fun to come back. The conditions are always very different year after year and very unpredictable. This all means I means I am even more a force to be reckoned with because of all my positive and happy memories here."
Sentiments echoed by Siddall, who like many top athletes, spurns the offer of a hotel for a home stay with a local family.
"I love the community in Taupo and so always feel welcomed back here. I have a fabulous home stay, Ellen and Murray Kinred, and it'll be my fifth time staying with them. They are just the best and make me feel like one of their family. It definitely helps me relax and settle into the pre-race energy.
"As far as the course and conditions, I think that's one of the great things about Taupo. You never really know what you are going to get. I think I've experienced most conditions here from calm and flat days with no wind, to chop and wind and rain. It's the fun of racing. What's constant though is the great support from the volunteers and spectators. It makes for a fantastic atmosphere on the run and at the finish!"
The Pro Women's field gets underway at 6:18am on Saturday, three minutes after the Pro Men's field and six minutes before the age group individuals and teams.
IRONMAN 70.3 Taupo, Pro Females
Siddall, 37, Great Britain.
Former age group world champion, Siddall has made the move into Pro ranks with immediate impact and is a consistent performer around the world and a regular visitor to New Zealand. Armed with a degree in Mechanical Engineering, Siddall lives by the motto 'don't die wondering'
Ex AG IM World champ ('13). 8 podiums, including 2nd Taupo 16, 3rd 15.
2017: Breakthrough win IM Australia, 2nd IM New Zealand, 15th Kona
Jocelyn McCauley, 30, USA
McCauley is, like Siddall, a former age grouper turned pro and comes from a running background at Brigham Young and Cincinnati. McCauley is a mum and has a Masters of Science in Exercise Physiology. Her first IRONMAN race was in 2014, the current Kellogg's Nutri-Grain IRONMAN NZ Champion.
World Champ IM age group '14, ex college runner. 2 IM wins
2017: 1st IMNZ, 1st 70.3 Vichy, 10th Kona.
Gina Crawford, 37, New Zealand
Crawford is returning to racing with a low-key approach after a return to her home town of Christchurch. One of New Zealand's best IRONMAN athletes, now an IRONMAN certified coach.
2 IM wins, 9 Podiums, 5 IM 70.3 wins, 5 podiums
Amelia Watkinson, 26, Auckland
is quietly putting together an impressive career as she continues to learn the art of IRONMAN racing, with results this year making it clear she is amongst the elite. Recent form includes a third at the Asia Pacific 70.3 Champs and a win in Bintan.
4 IM 70.3 wins – trained in Thailand. Now part of BMC-Etixx tri team
2017: 3rd Asia Pac 70.3, 1st Bintan, Philippines, 3rd Mallorca (2nd Taupo '15)
Ellie Salthouse, 24, Australia
well be one to watch over the next 12 months and a genuine threat here in Taupo, especially over 70.3 distance. Former ITU athlete, into early retirement before returning and already is a consistent challenger for podium placings.
Excellent all-round athlete. 3 wins 5 podiums in 2 years. Ex ITU
Retired – encouraged by Siri Lindley back into endurance sport
2017: 1st Miami, 3rd St George, 2nd Oceanside, 4th Geelong, 2nd Dubai
Rebecca Clarke, 29, Auckland
Clarke is a former ITU competitor, primarily at World Cup level and is a renowned swim/biker, often leading the field out of the water and contributing to lead bike packs, she will be a factor on Saturday.
Fitness Instructor, ex ITU athlete – moved to IM racing in 2016
2016: 4th Taupo 70.3. 2017: 13th 70.3 Sunshine Coast, 10th Asia Pac 70.3
Laura Wood, 25, Christchurch
A relative newcomer to the sport at the pro level, Wood enjoyed a successful age group career at ITU level before turning to longer distance racing in 2015
Turned Pro 2015
2017: 4th Vietnam, 10th 70.3 Sunshine Coast, 5th Taupo 70.3 2015.
Christen Brown, 33, USA
Pro since 2016 = solid top-10s
Christine Cross, 30, USA
3 AG wins. Turned Pro this year
2017: 4th Steelhead, 6th Santa Rosa, 7th Santa Cruz. 8th Bahrain
Laura Dennis, 22, Australia
Pro this year – 1st 70.3 Japan, 4th Bintan, 6th Bahrain
Elliott, 30, New Zealand (Lower Hutt)
1st 25-29 AG Taupo 70.3. 9th 70.3 Sunshine Coast on Pro debut
Grant, 32, New Zealand (Christchurch)
1 podium, ten top-10s.
Renee Kiley, 34, Australia
1st 30-34 AG Cairns. 8th Pro debut Gdynia
Indy Kraal, 27, New Zealand
Robin Pomeroy, 32, USA
1 podium. Strong biker
2017: 5th Thailand, 6th Steelhead, 3rd Hefei
Alise Selsmark, 34, Australia
Turned pro 2015 – 1 podium 2017: 8 Sun Coast, 6 Phillpines, Busso
Toulmin, 33, New Zealand (Hawke's Bay)
Won 30-34 AG at Taupo last year and 2015. 5th Bintan on Pro Debut.
Amanda Wilson, 33, Australia
Strong AG career. Pro since 2015. 2 podiums
2017: 15th Santa Cruz, 3rd Dublin, 5th Italy.
Accreditation
Media are invited to apply for accreditation to this Saturday's IRONMAN 70.3 Taupo. Please do so by replying to this email with the following information:
Name:
Contact number (mobile):
Organization represented:
Type of media (print, online, radio, TV, photo):
Timeline of Events
Friday 8 December
10:00am to 7:00pm Information Centre Open, Great Lakes Centre
10:00am to 7:00pm Sports and Lifestyle Expo, Great Lakes Centre
2:00pm to 2:30pm Pro Athlete interviews at Great Lakes Centre, by prior request only
2:30pm Pro Athlete briefing, Great Lakes Centre
3:15pm NOTE NEW TIME Media briefing, Great Lakes Centre
4:00pm Kids Fun Run, Northern Domain
Saturday 9 December
6:15am Pro Men start
6:18am Pro Women start
6:24am Age Group start
7:00am Final AG wave start
6:38am First Pro Male expected in T1
6:43am First Pro Female expected in T1
8:50am First Pro Male expected in T2
9:05am First Pro Female expected in T2
10:06am First Pro Male expected at finish line
10:31am First Pro Female expected at finish line
3:00pm Cut off time (8 hours)
3:30pm Award Presentations start, Stage, Northern Domain