Summer / Post Sun Care / Travel Kits
8 December 2017, 10:26AM
Dynamic Duo PR & Events
Hi Beauties! Please see below my bumper summer, post sun care and travel kits call out. Should there be any products that are suitable for any stories, please let me know. In addition to this, I would like to introduce you to Graidy Pearce who has joined the team at Dynamic Duo. Graidy (added to this email) will also be working closely with you for beauty related stories. Please feel free to add her (and me if you haven't already) to your beauty call out list. AB x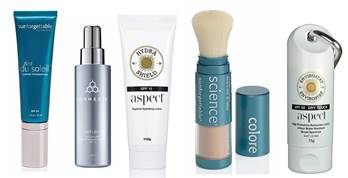 SUNSCREENS
Colorescience Sunforgettable Tint Du Soleil™ SPF 30, a mineral-based multitasking lightweight cream foundation that blends colour and sun-care into 1 supercharged product. Sunforgettable Tint Du Soleil's antioxidant-rich formula gives sheer foundation coverage with 'good for your skin' ingredients. Boasting 40 minutes' water resistance, Tint Du Soleil provides hydration and luminosity and its creamy sheer texture blends naturally into your skin for a flawless, health glow. RRP $78. Stockist 0800 238 754. Available in Light, Medium, Tan and Deep.
COSMEDIX® Reflect SPF 30 is a titanium dioxide-based, non-chemical spray on environmental protector that offers broad spectrum SPF in a non-irritating, oil-free formula. Combining nature's own protection along with potent skin-specific antioxidants, L-Glutathione and L-Superoxide Dismutase,
COSMEDIX®Reflect delivers superior moisturising and calming benefits in a convenient light weight SPF that is Suitable for all skin types and conditions. RRP $96.60, 120ml. Stockist 0800 238 754
Aspect™ Gold Hydra Shield SPF 15 - a light weight, super-hydrating moisturiser with physical sun protecting benefits. Packed with potent skin protecting antioxidants, skin hydrators and nourishing botanical oils, Hydra Shield SPF 15 is not sticky or greasy, heavy or thick and it does not leave white residue after application. RRP $86, 112g. Stockist www.aspectskincare.co.nz
Colorescience Sunforgettable Mineral Finishing Powder SPF 50 is a lightweight mineral powder that provides instant UVA and UVB sun protection in a matte finish with a barely-there feel. Free from talc, harsh chemicals, perfumes, alcohol and dyes, this safe, non-irritating mineral powder, contains pure pharmaceutical grade minerals that refract both light and heat, keeping the skin cool and protected all day. The unique self-dispensing powder brush makes this sheer formula, easy to apply and re-apply throughout the day. Colorescience Sunforgettable Mineral Finishing Powder SPF 50 is available in 3 tints: Fair, Medium and Tan. Perfect sunscreen for kids and those with super sensitivity or allergies. RRP $82.80. Stockist 0800 238 754
Aspect™ Gold Envirostat SPF 50 is a light weight sunscreen lotion with Vitamin E that provides broad spectrum dry-touch protection. Free of fragrance and mineral oil, Envirostat SPF 50 is water resistant for 4 hours, is not sticky or greasy, feels dry to the touch and leaves no white residue. RRP $30, 75g. Stockistwww.aspectskin.co.nz
AFTER CARE

*NEW* Aspect™ Sheer Hydration Oil Free Moisturiser is an oil free, lightweight daily moisturiser that provides lasting hydration without the concern of clogging pores. Sheer Hydration soothes and replenishes the skin with vital nutrients whilst antioxidants help protects the skin against free radicals and fight against the visible signs of ageing. RRP $97,50g. Stockist www.aspectskin.co.nz
Aspect Dr™ Redless is an extraordinary antioxidant calming serum with the power to comfort and relieve the look and feel of skin on the verge of a nervous breakdown. Redless has been developed to support skin prone to redness, impaired barrier function and excessive dryness. RRP $105.80.
Stockistwww.aspectdr.co.nz
COSMEDIX® Rescue + is a highly concentrated, soothing balm and mask that calms skin that is suffering from irritation. The unique water-free, emollient formula delivers intense hydration with all-natural, calming ingredients such as willowherb and shea butter to soothe and moisturise the skin. Ideal to use post-procedure, after waxing, or even for severe dry skin, COSMEDIX® Rescue+ Intense Hydrating Balm & Mask rapidly reduces the appearance of redness and helps support skin during the healing process. RRP $115, 50g. Stockist 0800 238 754
Go-To Face Hero - Combining 10 potent plant oils, including certified organic cold-pressed buriti (pronounced 'bur-ee-chi'), brazil nut, macadamia, rosehip and calendula, Face Hero locks moisture in, and bad guys out. Instantly absorbed, terrifically lightweight and suitable for all (even compromised or congested) skin types, Face Hero repairs, defends, nourishes, hydrates and brightens. RRP $49. Stockist www.gotoskincare.com
*NEW* Aspect™ Gold Probiotic Sleep Mask is a luxurious hydrating mask that infuses the skin with pro-biotic rich ingredients to immediately comfort and soothe skin in need of moisture and nutrition. Ideal for impure, dry & dehydrated skin, Probiotic Sleep Mask deeply nourishes the skin, is antioxidant rich and helps keep stressed skin calm and balanced. RRP $63, 118ml. Stockist www.aspectskin.co.nz
Aspect™ Gold Post Treatment Balm contains a luxurious blend of Hyaluronic Acid, Olive Oil, Aloe Vera and Shea Butter and is like a safe haven for distressed skin. This calming, hydrating protective post-treatment balm is suitable post laser and IPL and is designed to support compromised skins and protect the skin as it heals. RRP $60. Stockist www.aspectskin.co.nz
Colorescience Sunforgettable Setting Mist. Formulated with Vitamin E to revive and rehydrate skin before, during, and after sun exposure, Sunforgettable Mist soothes and calms skin from the irritating effects of the sun and environment. Its unique formula helps fight the effects of free radical damage and rejuvenates the skin when it needs it the most. RRP $59.80. Stockist 0800 238 754
SkinMedica® Lytera™ Brightening Complex is the next generation skin brightening serum that effectively addresses the appearance of skin discolouration, enhancing your skin's luminosity, revealing a more radiant you! Lytera™ Brightening Complex incorporates a patented blend of ingredients that is free from hydroquinone and actively work together to gently exfoliate and help brighten and even skin tone by reducing the appearance of dark spots. RRP $215, 60ml. Stockist 0800 238 754
Aspect™ Pigment Punch is a superior even skin serum that offers a multi-pronged approach on unsightly pigmentation by using a combination of effective ingredients in-conjunction with antioxidants, to ensure that you achieve clearer and brighter looking skin. Effective against age spots, freckles, hormonal marks, blotchy, uneven skin tones and red & brown acne scars; Aspect™ Pigment Punch hero ingredient is Tyrostat™; a revolutionary ingredient that eliminates the need for alternative harsh, irritating chemical skin lighteners. This super-efficient lightening and brightening ingredient delivers results without burning, irritation or trauma. RRP $130, 30ml. For stockists www.aspectskin.co.nz
HOLIDAY / TRAVEL KITS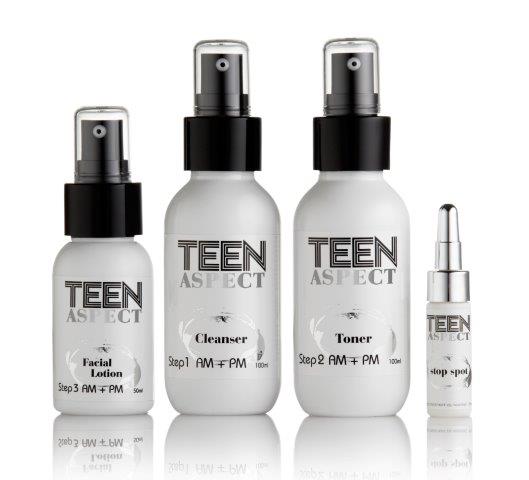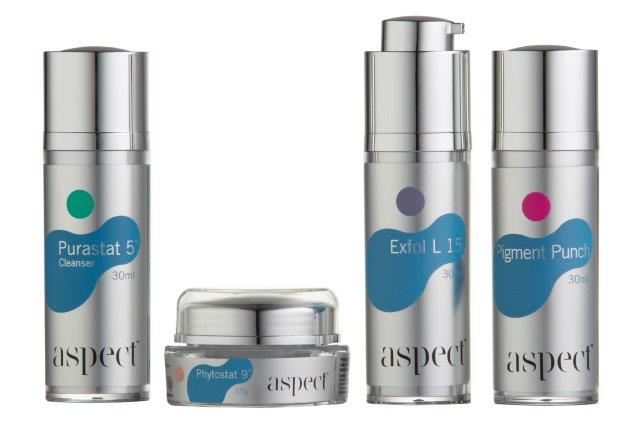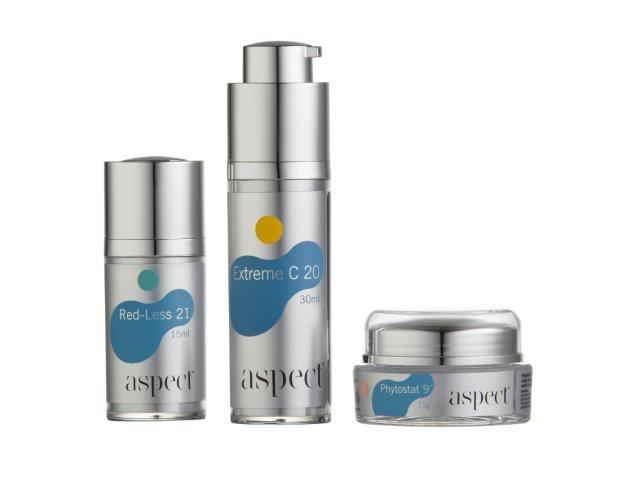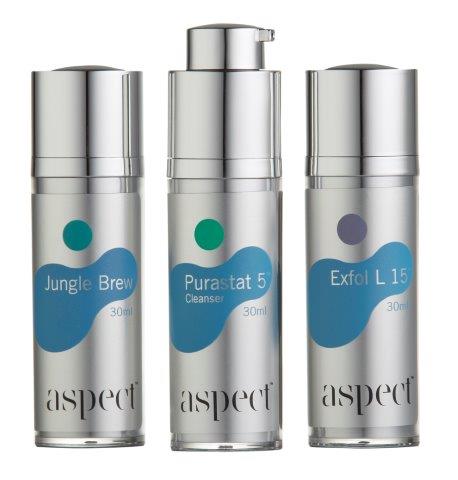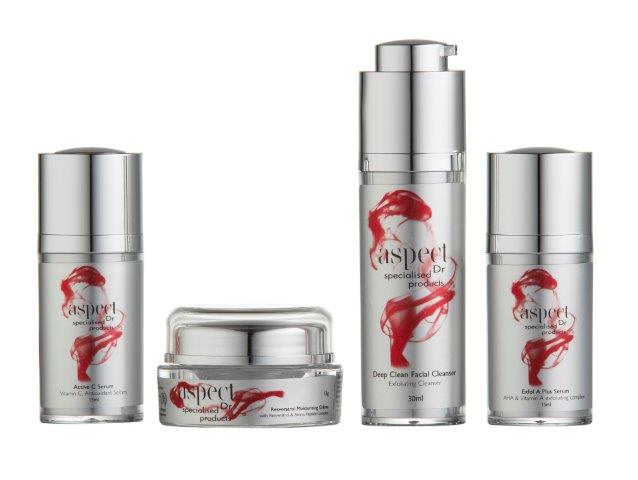 · Aspect Dr Starter Kit is the ideal travel companion! Containing 4 key products, specifically designed to work simultaneously, the Aspect Dr Starter Kit is all you need to keep your skin in premium condition, whilst treating most common skin conditions including pre-mature ageing. Travel size products include – Deep Cleanser, Active C Serum, Exfol A Plus Serum and Resveratrol Moisturiser. RRP $129. Stockist www.aspectskin.co.nz
· Aspect Problem Skin Kit – is the ideal travel companion for those who have temperamental skin. Containing 3 key products, specifically designed to work simultaneously to keep problem skin at bay, the Aspect Problem Skin Kit contains, Purastat 5 cleanser, Exfol L15 resurfacing serum and Jungle Brew Serum to target imperfections. RRP $218.50. Stockist www.aspectskin.co.nz
· Aspect Blush Free Kit – is the ideal travel companion for those who suffer for rosacea and redness. The travel size kit contains Extreme C 20 for brightening, Redless 21 to keep skin calm and Phytostat 9, a multipurpose moisturiser. RRP $235. Stockist www.aspectskin.co.nz
· Aspect Brightening Kit – the ideal travel companion for those who suffer from pigmentation and uneven skin. Aspect Brightening Kit contains of Purastat 5 Cleanser, Exfol L 15 for gentle resurfacing, Pigment Punch to keep unwanted pigmentation at bay and Phytostat 9, a multipurpose moisturizer. RRP $218.50. Stockist www.aspectskin.co.nz
· TEEN Aspect Starter Kit – for tweens and teens. This must have kit is free of all the typical nasties that would bleach and strip the skin. Containing Teen Cleanser, Teen Toner, Teen Facial Lotion and Stop Spot, this is the perfect travel kit for any teen. RRP $80.50. Stockist www.aspectskin.co.nz