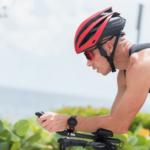 Coros OMNI Hybrid Smart Cycling Helmet with Open-Ear Bone Conduction Technology Now Available on Indiegogo
8 December 2017, 10:30AM
Jayme Schwartz
Hybrid smart cycling helmet features LED safety illumination and uses bone conduction audio to connect riders to music, calls, navigation, and ride data for the ultimate safe cycling experience
Woodbridge, VA ─ December 5, 2017 ─ Coros Wearables, announcd today the launch of an Indiegogo campaign for Coros™ OMNI, a hybrid smart cycling helmet designed to help riders get the most enjoyment, freedom, and awareness out of their ride while enhancing safety and performance. The OMNI smart helmet is available for pre-order on Indiegogo starting at $99 for super early-bird backers, which is a $100 savings off the suggested retail price of $199.99 when the product ships to backers and hits store shelves early-Q1 2018. The company's Indiegogo funding goal is $50,000.
Coros™ OMNI - helmet, smart remote, and mobile app – delivers mobile lifestyle demands of smartphone connectivity, precision two-way audio, and instant accessibility, all packed into a high performance, multipurpose helmet. It does this ears, hands, and eyes free, so riders can maintain full awareness and keep focused on their ride and the road. Open-ear bone conduction audio - no wires, no earbuds, no safety compromises – links cyclists to their music, friends, bike mates, navigation, and ride data to enrich the ultimate riding experience.
"After last year's successful launch of LINX, Coros's first smart cycling helmet, and incredible feedback we've received from our customers, we knew we had to design another helmet that could be used by a broader range of cyclists," said Bill Reusing, Director of Marketing, Coros Wearables. "Coros™ OMNI features the same unique technology as LINX in a lighter, aerodynamic design with 18 airflow vents, a detachable visor and LED safety illumination making it the perfect helmet for a variety of cyclists including road and mountain."
How Coros™ OMNI Works: Audio, Music, and Calls Through Bones Not Ears
The Coros™ OMNI hybrid smart cycling helmet uses bone conduction technology placed on the helmet straps, which rests on the rider's cheekbones and allows the rider to hear without safety issues of using ear buds. Bone conduction sends small vibrations directly to the inner ear and bypasses the ear canal and eardrum, leaving the ear completely open and aware of external noises such as cars or conversations with fellow riders. The helmet also has a wind-resistant microphone near the forehead for two-way communications. In addition, OMNI ships with a wireless smart remote so the rider can keep their eyes on the road and hands on the bars while controlling their media and calls with the tap of a button.
Power Behind the Coros™ OMNI Hybrid Smart Cycling Helmet
Precision Bone Conduction Audio. Cutting edge open-ear bone conduction audio and a high-quality microphone allows riders to seamlessly connect the OMNI helmet to their smartphone for music, calls, voice navigation and voice data. Two-way audio is supported with a wind resistant microphone. Set up is simple; charge the helmet, push 'on' to activate the helmet, pairing will occur with the phone, and the rider is ready to enjoy their audio. The helmet has a USB chargeable battery with 8+ hour play/talk battery life.
High Performance Design. The OMNI helmet offers a sleek hybrid aerodynamic design with 18 vents for keeping cool during long rides. OMNI includes comfortable foam strip lining and a ratchet fitting system for extended wear across various head sizes and shapes. The all-weather helmet is rain, water, splash, and sweat resistant and comes with a detachable snap fit visor.
Smart Remote with Bike Mount. The Smart Remote allows for volume control and makes it easy to quickly track forward, pause or play, and take calls. The Smart Remote has a flexible mounting system to affix to all types of handlebars and the buttons are easy to find by feel so riders can keep their eyes on the road.
Mobile App for Ride Tracking. Riders can download the iOS or Android app to manage GPS ride details, stats, routes, voice navigation and voice data. Data sharing is also available with STRAVA™ and Map My Ride.
Safety and Protection. The OMNI smart cycling helmet includes an emergency alert system that is triggered when the G-sensor senses significant impact, which sends an alert with GPS notification to a designated loved one. Day/night LED safety illumination feature provides maximum visibility throughout day and night. OMNI comes with a one-year warranty, along with an impact replacement program in the event the helmet is involved in a high impact incident. The helmet is Consumer Product Safety Commission certified in the U.S.
The Coros OMNI Smart Cycling Helmet will ship to Indiegogo backers early-Q1 2018, following the 40-day crowdfunding campaign. The Indiegogo kit includes the OMNI smart cycling helmet, Smart Remote and mount, detachable snap fit visor, a helmet bag, USB charging cable, quick-start guide and warranty registration card.