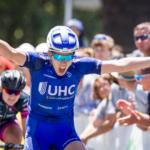 Buchanan, Williams head field for BDO Road Cycling Nationals in Napier
15 December 2017, 4:50PM
Cycling New Zealand
The remarkable Rushlee Buchanan will look to become the first female cyclist to win the national road race championship five times, after confirming her entry for the BDO Road Cycling Nationals in Napier next month.
The 29 year old is an inspirational rider who moves with seemingly effortless ease from a professional road rider with US-based UnitedHealthcare to being a key contributor to the Vantage Elite women's track cycling programme.
While her current focus is on the track looking towards the world championships and Commonwealth Games, she has won three of the last four years and twice in a row in Napier.
A major challenge is likely from World Tour rider Georgia Williams, a former Olympic track teammate, now focussing on the road where she greatly impressed in her rookie year with Mitchelton-Scott.
She has been four times runner-up and will no doubt be looking to get to the top of the podium.
Buchanan's Vantage elite track teammates, Racquel Sheath, Kirstie James and Elyse Fraser will be competing along with Bryony Botha, Michaela Drummond and Holly Edmonston, in the under-23 division.
There are a number of highly promising young riders in the under-23 division who could challenge for overall honours including US-based Team Illuminate riders Georgia Catterick, Mikayla Harvey and Grace Anderson, along with defending under-23 road race champion Amanda Jamieson, who rode for Maaslandster Veris CCN team in Europe this year.
Some experienced and competitive riders will push for honours, headed by the remarkable Kate McIlroy, who has been a mountain running world champion, and a world class steeplechaser and Olympic triathlete before moving to cycling.
She is joined by the competitive Kerri-Anne Page, Hannah van Kampen, and the 2013 elite champion Courteney Lowe.
There will be a strong challenge from the talented Sharlotte Lucas, who has enjoyed another stellar year with success in both New Zealand and Australia, with the news she will join the Australian-based Specialized team next year alongside McIlroy.
The time trial, over 20kms, is again based at Church Road Winery on Friday 5 January. The road race is a similar course to 2017, although there is no added flat lap at the end of the course to bring the riders back in the opposite direction to the finish line.
Instead after the rural loop (55km for women), the riders head over Napier Hill to the start-finish line, with a further five full city loops over the hill, leaving a 500m sprint finish along the foreshore on the final lap to the finish.
The women's elite race, which also includes the under-23 females, is 1141kms starting at 10am on Saturday 6 January.
CAPTION: The ebullient Rushlee Buchannan celebrates her fourth national road victory in Napier this year. Credit: Bruce Jenkins.
For details: www.cyclingnewzealand.nz or www.eliteroadnationals.co.nz