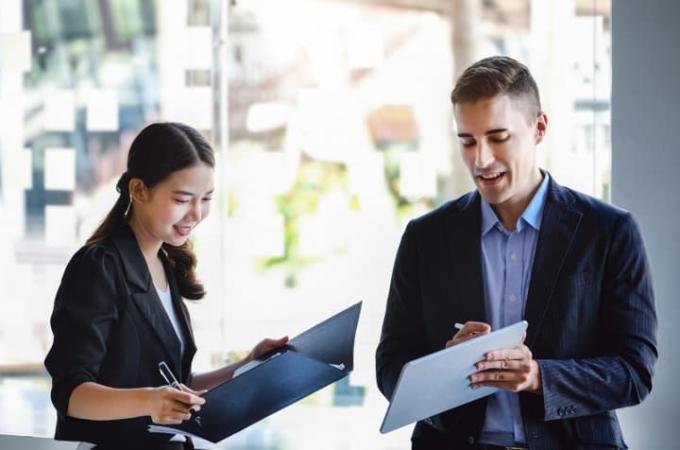 How to Choose Chartered Accountants for your Small Business
5 May 2022, 12:38PM
Whenever you choose professional services like
chartered accountants
or lawyers, you are essentially choosing a strategic business partner.
The service and advice from your chartered accountants has the potential to have an incredible impact on the way you use your time, the accuracy and reliability of your bookkeeping and accounts, the timeliness of your tax payments – not to mention any reductions that they create for you, the insights and information they glean from your financial reports, the business decisions you make, and ultimately the profit and pleasure you get from your investment.
Here are our 10 Best Tips for Choosing Chartered Accountants
Choosing the right chartered accountants can make or break your small business.
Do you have a good connection with them?
Everyone wants a competent accountant. But competence needs to be matched with character and chemistry – you need to know that you can trust your chartered accountant, and you need to like them. I'm not talking about the sort of chemistry that says you want to go night clubbing. I'm talking about the sort of chemistry in a business relationship that says, we're on the same page, we get each other, this will work.
Why is it so important that you like your accountant? Have you ever gone to a meeting thinking, "oh no, Suzy will be there… I'm not looking forward to this meeting!"
It's the same with your accountant. If you don't get on with them, you will avoid contact with them, and the relationship will not work.
I'm not talking about world-changing chemistry here. You don't have to become best friends and play tennis every weekend. But there needs to be a certain minimum for the business relationship to hum.
Here's what I know to be true about chemistry:
It's there or it isn't. While chemistry could be broken down into attributes, more often its a feeling. It screams, "yes this person gets me," or "get me out of here – I can't stay another minute!" You will know instantly if your potential accountant is trying to manufacture it, to fake it until they make it. You want to get the sense that you are meeting their genuine self, just as they are. If you like them and they seem to like you, you can tick one thing off this list.
It's not automatic. Don't set yourself up by having unrealistic expectations. You won't always experience great chemistry every time. That's ok. When it happens its a gift. Enjoy it. But don't let it ruin your life if it's not there. Move on and hope for next time.
It isn't about demographics. Age, gender, wealth, income, education, race, politics, etc have nothing to do with it. Its not about having enough things in common with the person. You can form great working relationships with all sorts of people. Don't limit yourself by putting either you or your accountant in a box of any type.
So don't be afraid to keep interviewing until you find an accountant who has all three – competence, character and chemisty.
Do they come recommended by people you know?
Word of mouth recommendations are so powerful.
92% of people trust suggestions from friends and family more than advertising.
88% of people trust online reviews written by other consumers as much as they trust recommendations from personal contacts.
74% of consumers trust word of mouth and identify it as a key influencer in their purchasing decisions.
You can see where this is going.
When choosing chartered accountants for your business, ask your family and friends who they use.
If you get a negative report, you know what to do.
But if you get positive recommendations from multiple friends, or from someone who you really trust, go on a journey with the potential accountant and check them out.
Is their location convenient for you?
This factor is becoming less and less relevant over time, as we all get used to cloud based software, emails and video conferencing.
These new technologies mean that you can have real, live data available to you instantly and at all times. This is highly efficient and also helps you to be highly effective. Business decisions can be made quickly with timely, relevant and accurate information.
Partly it comes down to you. What are you comfortable with? Have you adapted to using technology in this way, or is it too uncomfortable for you? If so, then find someone local that you can meet with face to face. There's no pressure. Do what works for you.
On the other hand, it would pay to check to ensure that your accountant has adapted to technology and is adept at operating in the modern world. You don't want an accountant who can't work in the modern world.
Do they have relevant experience?
When you meet any potential chartered accountants, ask some of the following questions to ensure they have the experience to guide you and your business:
What size businesses do they work with? You want to ensure that they have experience with small businesses, as they have unique business realities that are different to large corporates.
What industries are they familiar with? If they are in a rural setting involved in agribusiness, will they be able to assist your tech startup? Or, if they are in an industrial area, will they understand the nuances of your childcare operation? Make sure you feel confident that they can relate to what you are doing.
Who are some of their clients that they work with? They might not want to answer this question due to privacy issues. But you need to be assured that they have other clients with similar business models, size and revenue – and that they are operating successfully and growing.
Do they have the range of services you need?
Even a small accounting firm will almost always be able to offer the range of services you need.
However, depending on your industry you may have unique requirements:
Do you have specific tax obligations and requirements? So, do they have a tax specialist who can assist you?
Do you operate internationally? If do they have someone who has good working knowledge of currency and international trading.
Do you need CFO or secretarial services? Can they provide payroll services or will you need to outsource to another firm?
Think about your business and its peculiar needs to ensure you find a firm who can help in as many ways as possible, integrating all of these eservices for efficiency and effectiveness.
Do they use software that is compatible?
Increasingly accounting is completed using
cloud-based software such as Xero
. There are many reasons why people love using Xero, but perhaps the most relevant are:
Xero software is incredibly user-friendly and easy to use
Xero automatically updates your records in real-time, so you're always up to date
It's ability to save time and money due to live data and useful reports
Xero integrates with a wide range of third-party applications, making it easy to add new features and functionality to the software
You can access Xero from anywhere, at any time, on any device
The software is very affordable, even for start-ups and small businesses.
If the potential accountant is highly invested in a platform and you have been using something that is incompatible, it could get tricky. Its worth asking them what software platforms they use.
The software platform doesn't stop with accounting alone, but also includes integrations with other apps including payroll,
job management software
,
quoting
, reporting, and so on. The right combination of apps can save a lot of time and energy.
You also want to make sure that any potential software solution will accommodate your business as it grows. You don't want to have to change to often.
Do they have a reputation for adding value beyond bookkeeping?
How does a chartered accountant add value to your business?
A good chartered accountant will share the dreams and goals you have for your business. As such, they will not limit themselves to completing your bookkeeping, sending you financial reports, filing your end of year reports and helping with your tax obligations.
Instead they add value by:
Analysing and interpreting your results. A good accountant will help you to identify the realities of your business and tell you the truth about your situation – which might hurt! But it is worth know the reality instead of deceiving yourself and finding your business bankrupt one day.
Environmental scanning. A significant skill that a chartered accountant should have is the ability to observe the marketplace conditions around you and show you how things are changing and what the future conditions may look like. This includes political, economic, societal, technological, legal and environmental changes and the implications for your business.
Developing Strategy. A key aspect of business is being aware of competitors and your comparative strengths and weaknesses, and crafting a strategy, including the environmental factors above, to help you grow and dominate your marketplace.
Maximising Opportunities and potential. An astute accountant will see opportunities for your business to grow or diversify, and will help you to capitalise on this potential.
Exiting Your Business. The time may come when you want or need to exit your business and pursue something else. Your accountant can help you to determine the right timing and strategy for such an event. This includes helping you to position your business for sale, and negotiating the sale if you want them to.
What feeling do you get from their website and social media?
Most accountants will have a presence on social media. This will give ou an idea of who they are, how they operate, and what is important to them. You will also be able to see if their are favourable customer reviews, although these may be carefully selected before publishing!
Accounting software providee Xero recommend that you use LinkedIn or other online networks to delve a little deeper into each candidate's background and find out things like:
Who are they connected to? Do they have a strong network of professional people?
How do they talk about their services? Are they enthusiastic and interested in their work?
Have they received any recommendations from their clients? What do those recommendations actually say?
What is their experience? How long have they been in business, and what were they doing before?
What are their qualifications? Are they a chartered or certified accountant, a bookkeeper, a financial advisor or something else?
This form of social proof will usually create an impression with you, and either encourage or discourage you from pursuing them. Sadly, there are wonderful accountants who have a poor social media presence and the reverse is true too. So don't rely completely on this evidence.
Are they obviously affiliated with a Chartered Accountants professional body?
The key reason that accountants join a professional body is so that there are ethical and professional standards of behaviour, together with is some accountability.
This gives business owners a certain level of confidence that members have attained the required minimum levels of qualifications an experience. It also implies that the members will continue wit professional development and stay current in their practice.
In New Zealand, the professional body is Chartered Accountants Australia and New Zealand (CA ANZ) and this body represents more than 131,673 financial professionals.
CA ANZ promotes the Chartered Accountant (CA) designation and high ethical standards, delivers world-class services and life-long education to members and advocates for the public good. We protect the reputation of the designation by ensuring members continue to comply with a code of ethics, backed by a robust discipline process. We also monitor Chartered Accountants who offer services directly to the public.
Our flagship CA Program, the pathway to becoming a Chartered Accountant, combines rigorous education with practical experience. Ongoing professional development helps members shape business decisions and remain relevant in a changing world.
We actively engage with governments, regulators and standard-setters on behalf of members and the profession to advocate boldly in the public good. Our thought leadership promotes prosperity in Australia and New Zealand.
CA ANZ
Make sure any charted accountant you are considering clearly states which professional body they are a member of. You can also cross-check that with the body concerned.
Do their fees match your business reality?
Plain and simple – do they charge fees that you can afford? There's no use engaging the best accountant in the world if you can't afford their $500 or $1,000 p/hour fees.
Ask about their fees and don't be afraid to negotiate.
Do they bill hourly, monthly or annually?
Is there an all-inclusive fee or do they have different rates for different services?
What happens to the fees when your business grows?
Make sure that you both have a very clear understanding of the final fee structure, and that you have it in writing.
Conclusion
So there are ten boxes that you can tick for any potential chartered accountant that you may be interested in. You will not likely tick every box for any given accountant – you need to be realistic. But in general, you want to line up as many ducks in a row as possible.
Make sure you look for a chartered accountant that you will be happy to recommend to your friends and family. If word of mouth is the best method of marketing, make sure you have something positive to say about your accountant.
If that's not the case, or if you suspect it won't be, keep looking!